Awards
I have won a number of awards over the years and I'm please to celebrate these here.
Adult Learning Award 2018 - Radio Redhill 2018 - Mayor's Volunteer Award 2014 - Radio Addenbrooke's 2010
On Friday 16 November I attended the Adult Learning Awards at East Surrey College in Redhill. It was organised by the college and WEA and our local MP, Crispin Blunt, handed out the awards.
I was chosen as the winner for the Personal Development Award.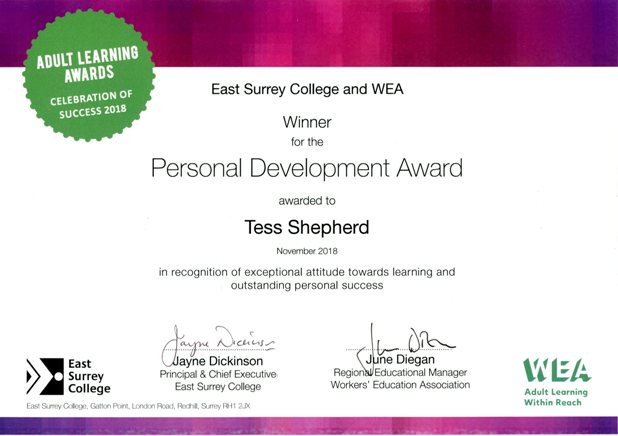 My citation read:
The WEA would like to nominate Tess Shepherd (nee Lewsey) for a Personal Achievement Award for her commitment to Adult learning and for inspiring others to learn. Tess was first introduced to the WEA, via the Building Better Opportunities Project in 2017.
Tess had previously been a qualified Nursery Nurse and was looking to update her qualifications in the field of Childcare and diversify her skills, but for Tess this was more of a challenge than for other people because she has a significant visual impairment and has not had a good experience at school because of her disability.
Tess enrolled on a Preparing To Help in Schools course in 2017 which the WEA ran in partnership with East Surrey College, this inspired Tess to progress onto the accredited level 2 Award in Supporting Teaching and Learning in Schools course later in 2017 and then onto the Accredited Level 2 Award in Supporting Educational Needs and Disabilities course in January 2018. Both of these courses were run by the WEA and Tess excelled at both of them, producing some outstanding and insightful work.
Since completing her courses Tess has continued to support the work of the WEA and has been an passionate advocate of Adult Learning in general , for example she recently appeared on the Victoria Derbyshire TV Show (on behalf of the WEA) to talk about Adult Education, where she came across so eloquently to explain her story and the impact that Adult Learning has had on her life and she kindly volunteered her time to attend a Parliamentary event to highlight the need for more funding for Adult Education.
The more we get to know of Tess, the more we realise that her visual disability never holds her back, and indeed why should it? She embraces every opportunity wholeheartedly with a "can do attitude" and gives it her all, she is truly inspiring to all those who meet her and we believe fully deserving of an award.
---
I have been working for Radio Redhill since 2008 and on 26 November 2018 I was awarded the 10 Years Long Service Award.

In 2014 I was nominated for and awarded the Individual Volunteer Award for my voluntary work with Redstone FM.

The award was part of the annual Mayor's Volunteer Award Scheme and I was presented with my certificate at Gatton Hall in July 2014.
I started my radio career with Radio Addenbrooke's in 2000 and after a decade of volunteering with the service, was awarded their 10 years service award.
---